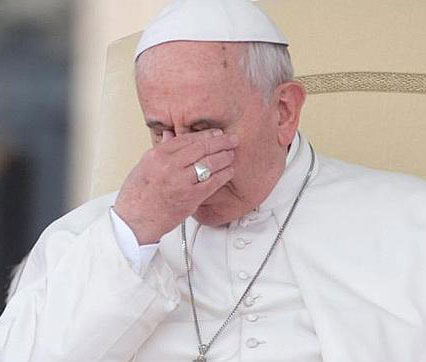 June 18, 2018 - It was just a month ago that Pope Francis told a man that God had made him gay and that God loved him.
But now the pope says that gay couples can't be considered as families.
In unscripted remarks Saturday to the Forum delle Famiglie, an Italian lay movement representing Catholic families, the pope discredited the love that gay parents provide their children.
"It is painful to say this today — people speak of varied families, of various kinds of family," Francis said, but "the family (as) man and woman in the image of God is the only one."
The pope's meandering comments on gays have progressive Catholics hopeful and conservative Catholics simmering. His comments on Saturday only fuel the debate.
While Francis took a swipe at LGBTQ parents, he also praised women suffering with cheating husbands, and he evoked the Holocaust as he likened abortion to white-glove murder: "Last century, the whole world was scandalized by what the Nazis did to purify the race. Today, we do the same thing but with white gloves," Francis said.
Francis' duality on gay issues mirrors the duality of his World War II predecessor, Pius XII, during the Holocaust. Pius had spoken out against the Nazis prior to World War II, and he is credited with saving thousands of Jews. Yet during the war, he maintained Vatican neutrality, likely to protect Catholic assets during the conflict.
Related: The parallels between today and Nazi Germany are striking
Today's pope continues the dance, but on LGBTQ issues.
At one moment, Francis reaches out to gays with a conciliatory comment — and earns praise from gay Olympian Adam Rippon, winner of Dancing with the Stars. But, at another moment, the pope warns Catholic seminaries not to recruit gays. (Studies suggest the incidence of homosexuality in the church is higher than in the general public.)
At one moment, he reaches out to survivors of sexual abuse in the church. At another, he supports high-ranking church officials prosecuted for their roles in such abuse, among them the Vatican's finance chief.
The varying stances reverberate nationally and internationally. In America, Saturday's papal remarks against same-sex parents bolster American conservatives who have lobbied against LGBTQ adoption in state legislatures.
This year, both Oklahoma and Kansas passed adoption laws that discriminate against LGBTQ parents and foster parents. In Kansas, Catholic Charities and its supporters — including Lamar Hunt Jr., the owner of the Kansas City Chiefs — were behind the new adoption law that discriminates against LGBTQ parents and foster parents.
And in Ireland, after a historic national vote in support of abortion in May, the pope will visit in August for the church's World Meeting on Families. Before that event, tensions have flared after same-sex couples were edited out of an American promotion of the event.
The Irish news site The Journal reports that the group We Are Church Ireland has launched a petition calling on Francis to change theological language it finds gravely insulting to LGBTQ people.
Originally posted on LGBTQNation