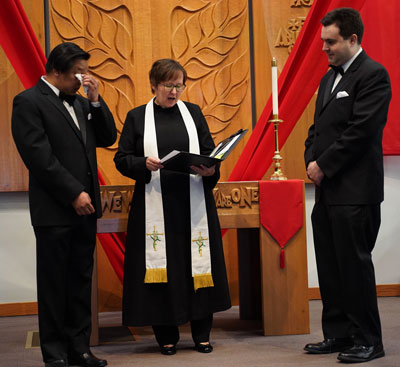 I am writing about our gay son, Johnathan's journey to marriage, to bring hope, faith, courage, and patience to others who are lonely and frustrated along the path.
Johnathan has Autism, specifically, Asperger's Syndrome. He is high-functioning and has his bachelor's degree. He has worked for Nintendo, Pokeman, and Microsoft for years as a video game tester. He loves Scrabble, chess, and math, and is very good at them, but his handicaps have given him many challenges.
He had stuttering problems as a child and seemed to be in his own little world. He was a sweet child but often did not fit in with the other kids. He has health issues, and social problems that made relationships very difficult.
He found people (both guys and girls) could be very cruel when trying to date, and would make fun of him. There were those who tried to help him, even though they did not feel compatible with him as dating partners.
As a mom I often worried about him. I worried when I found out he was gay, and even wrote a book, Prayers for Johnathan, in 2000.
I worried whether he could live on his own, finish college, and keep a job. I worried when he lost his faith in God, and became suicidal. I worried if he would catch some disease, get beaten up, or ever find a life partner.
As Christians, one of the first things the Bible tells us is that "it is not good for man to be alone".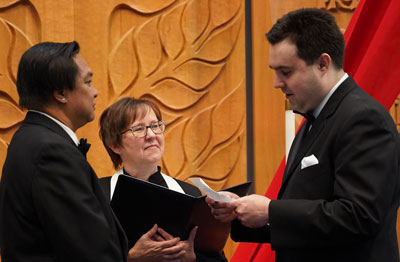 9 Two are better than one, because they have a good return for their labor:  10 If either of them falls down, one can help the other up. But pity anyone who falls and has no one to help them up.  11 Also, if two lie down together, they will keep warm. But how can one keep warm alone?  12 Though one may be overpowered, two can defend themselves. A cord of three strands is not quickly broken.  ~ Ecclesiastes 4:9-12.
God created us to be social beings.  Solitary confinement is one of the worst punishments.  We are made to need each other.  We have "skin hunger".  We need hugs and to be touched in healthy ways.  We also have emotional and mental needs that makes us reach out to each other.
It has been a long journey of dating, boyfriends and heartbreaks, but on November 2, 2019, our 37 year old son, Johnathan, married a wonderful man.  Homer is 46 yo, from the Philippines.  For the past 10 years he worked as a dental assistant in Saudi Arabia.  He and Johnathan met on a gay dating site, and dated only a month while Homer was on a temporary visa in Seattle visiting some relatives.  That was two years ago.
They were pen pals for one year and then got engaged.  A year later they finally got another visa for Homer, and were married in Renton, Washington.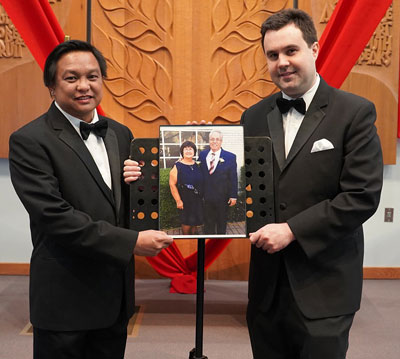 My husband had emergency quadruple bypass heart surgery on October 22, so unfortunately, we were unable to go to the wedding, however our two older children and their spouses did attend, even though our daughter and her husband do not approve of homosexuality. 
Six months ago Johnathan found a gay-affirming church and a wonderful pastor who married them.
Johnathan has lived in the Seattle area for the past 18 years.  When he would come to visit us in Florida, he would go to our church (United Church of Christ) which was gay-affirming.  We had a gay pastor who reached out to Johnathan and even gave him a special blessing to find a life partner and heal his wounded heart.
I connected him with my friend, Tom Brown (from Christian Gays), who took him to his gay-affirming church and played Scrabble with him.
All of these things and so many prayers brought Johnathan back to Christ, and to wonderful gay-affirming churches.  God works through people, ministries, and online dating sites.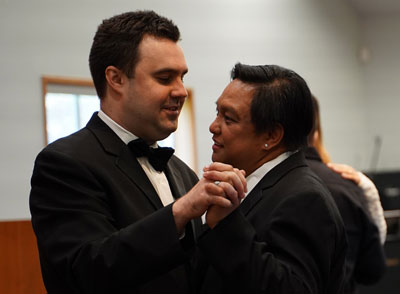 My husband's cardiac nurse told him just before his open heart surgery to remember that even though everyone is on the same path, everyone's journey is different, and we need to respect each person's journey, and not expect it to be the same as ours.  This goes for dating and finding a mate as well.
I thank God everyday for people like Mary Pearson for starting Christian Gays and the support groups.  It does take a village and caring people to make a difference. 
So, for those of you who feel so alone and are losing hope and faith...ask God what journey he is taking you on to help make you in His image. God does have a plan for your life!