See Part 1 here
April 2018 Update: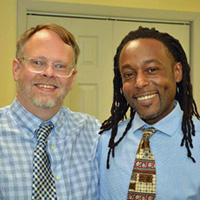 Since the running of the article in Out and About Newspaper a decade ago much has occurred. I am no longer with the partner mentioned in the article, but am happily engaged to a wonderful man named Joe who also brought into my life his daughter Brianna. Joe and I have been together for six years and plan to marry sometime in the next year. During the writing of the article I was fighting a call into ministry. By the time the article ran, I was sure that God does call LGBT people into ministry, but just was not willing to believe God was calling ME into ministry.
The nagging feeling that I was being called finally got the best of me. I consulted with the minister of the United Church of Christ that I was attending and went into a time of prayerful discernment. Still not sure, the pastor suggested I take a leap of faith. So I applied to Vanderbilt Divinity School. I told God, if I get in I will answer your call. I thought it was a safe bet, there was no way I was going to get into such a prestigious school as Vanderbilt. To stack the odds in my favor, I did not apply to any other Seminary or Divinity school.
Weeks later I received a letter in the mail that began with the words "We are pleased to inform you that you have been accepted..." I laughed. Cute God, I thought. But I was not out of excuses yet. Vanderbilt is so expensive, I can't go. Nope. Not going to answer the call. I placed the acceptance letter on the desk and thought nothing more of it. A couple of weeks went by and a return trip to the mail box would bring yet another God size surprise. My mailbox was stuffed with letters from United Church of Christ congregations offering me scholarship money. How did they even know about me? I was confused. Then it hit me. "I get it God. I surrender!" Off to Vanderbilt I went.
That first day of class was a marvelous, life giving experience. I left that day wondering why I waited so long to say yes to God's call. I had no idea where this all would lead, but I was finally willing to walk into it. My past contained so much shame. I had struggled so long with my sexuality and was determined to reach out to others. So my Masters Thesis was based on the idea that pride was not a deadly sin, but was redemptive and it was shame that was the sin. Since graduating from Vanderbilt in 2014 I was ordained in the United Church of Christ and have been called to serve as Senior Pastor of one of those churches that had mysteriously sent me a scholarship. My congregation is predominately heterosexual and this helped me realize that shame is not just an LGBT issue. I am not a perfect pastor, but I do my best every day to walk into my calling and to continue to speak out on the topic of shame and pride. 
Not much has changed with my parents. I continue to give them unconditional love because this is what I desire from them and can't get what I'm not willing to give.
You may want to check out my blog on this website as I will be writing some posts on the topic of shame. My hope is you are redeemed by pride and pass it along to others!
 
Rev. Scott M. Williamson, M. Div
Senior Pastor
Pilgrim Congregational Church, UCC
400 Glenwood Dr., Chattanooga, TN 37404Â 
(423) 698-5682Â  www.pilgrim-church.com