The rainbow flag has become the easily-recognized colors of pride for the gay community. The multicultural symbolism of the rainbow is nothing new. Jesse Jackson's Rainbow Coalition also embraces the rainbow as a symbol of that political movement. The rainbow also plays a part in many myths and stories related to gender and sexuality issues in Greek, Native American, African, and other cultures.
Eight Striped Version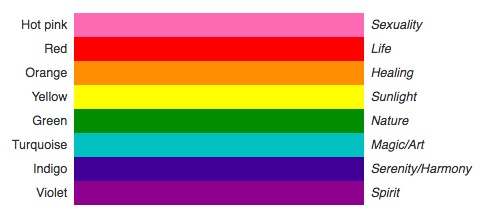 Use of the rainbow flag by the gay community began in 1978 when it first appeared in the San Francisco Gay and Lesbian Freedom Day Parade. Borrowing symbolism from the hippie movement and black civil rights groups, San Francisco artist Gilbert Baker designed the rainbow flag in response to a need for a symbol that could be used year after year.
Version A) Baker designed a flag with eight stripes. According to Baker, those colors represented, respectively: sexuality, life, healing, sun, nature, art, harmony, and spirit. Baker dyed and sewed the material for the first flag himself - in the true spirit of Betsy Ross.
Version B) Baker and thirty volunteers hand stitched and hand dyed two huge prototype flags for the parade. The flags had eight stripes, each color representing a component of the community: hot pink for sex, red for life, orange for healing, yellow for sun, green for nature, turquoise for art, indigo for harmony, and violet for spirit.
---
Seven Striped Version
Version A) Baker soon approached San Francisco's Paramount Flag Company about mass producing and selling his "gay flag". Unfortunately, Baker had hand dyed all the colors, and since the color "hot pink" was not commercially available, mass production of his eight striped version became impossible. The flag was thus reduced to seven stripes.
Version B) San Francisco-based Paramount Flag Co. began selling seven-striped (top to bottom: red, orange, yellow, green, blue, indigo, and violet) flags from its Polk Street retail store, which was located in a large gay neighborhood. These flags were surplus stock which had originally been made for the the International Order of Rainbow for Girls, a Masonic organization for young women. When Baker approached Paramount to make flags for the 1979 Gay Freedom Day Parade, Paramount informed Baker that fabric for hot pink was not available for mass production, and Baker dropped the hot pink stripe.
Steve Kramer, 24 April 1998
---
Six Striped Version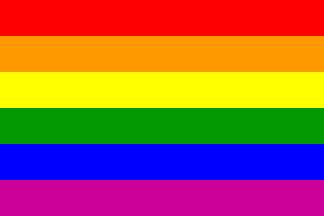 In November 1978, San Francisco's gay community was stunned when the city's first openly gay supervisor, Harvey Milk, was assassinated. Wishing to demonstrate the gay community's strength and solidarity in the aftermath of this tragedy, the 1979 Pride Parade Committee decided to use Baker's flag. The committee eliminated the indigo stripe so they could divide the colors evenly along the parade route, three colors on one side of the street, and three on the other. Soon the six colors were incorporated into a six striped version that became popularized and that, today, is recognized by the International Congress of Flag Makers.
Note: The "International Congress of Flag Makers" was inadvertently created by Gilbert Baker when he confused the organization FIAV (International Federation of Vexillological Associations) and the event "Flag Congress" during an interview.
Color has long played an important role in our community's expression of pride. In Victorian England, for example, the color green was associated with homosexuality. The color purple (or, more accurately, lavender) became popularized as a symbol for pride in the late 1960s a frequent post Stonewall catchword for the gay community was "Purple Power." And, of course, there's the pink triangle. Although it was first used in Nazi Germany to identify gay males in concentration camps, the pink triangle only received widespread use as a gay pop icon in the early 1980s. But the most colorful of our symbols is the Rainbow Flag, and its rainbow of colors red, orange, yellow, green, blue, and purple represents the diversity of our community.
In 1994, a huge 30 foot wide by one mile long rainbow flag was carried by 10,000 people in New York's Stonewall 25 Parade.
---
2003 - Reverted back to the Original Eight Stripes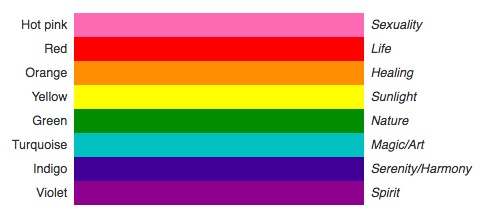 The Rainbow Flag celebrated its 25th year as a symbol of gay and lesbian pride in 2003. To mark this anniversary, creator Gilbert Baker gave the familiar flag a wee bit of a makeover.
The San Francisco artist who originally designed the rainbow flag a quarter of a century ago wanted it to be a symbol of pride in a time of rampant anti-gay sentiment. The flag as created by Baker, contained eight colours in its original form: fuchsia, red, orange, yellow, green, turquoise, blue, purple and pink.
Baker worked at his studio on a giant, reworked flag which was revealed in Key West on June 15th. The flag once again contained all eight rainbow colours as Baker originally intended. "We lost two of the original colours, pink and turquoise, because they could not be commercially produced back in 1978," Baker said in a press release. "It's time, however, to restore the original design. First of all, it's simply more beautiful, more authentic. Besides, when we lost the pink, we lost the symbol for sexual liberation. The missing turquoise honors Native Americans and the magic of life. Both colours are needed to embrace our history."
The flag was so large that stretched across the entire main island from the Atlantic Ocean to the Gulf of Mexico. Unfurling the recording-breaking banner was the finale of the PrideFest 2003 celebration, entitled "Sea-to-Sea Diversity."
After it was displayed, more than a 100 sections of the 1.25 mile flag were given to Pride organizations in cities across the U.S.
"For Rainbow25, I restored the Rainbow Flag to its original 8 colours and brought it to cities worldwide -- as my gift to the community that embraced it," Baker said. "When I raised the first rainbow in San Francisco in 1978 I instantly knew that my flag belonged to every lesbian and gay man."
L.A.Vess - OutUK Correspondent
---
The six colour version has remained popular since 1979. Indigo and turquoise were changed to royal blue.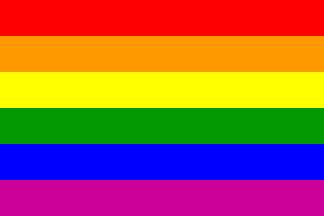 ---
Creator of the Rainbow Flag - Gilbert Baker
Photo by Hank Donat. Courtesy http://www.mistersf.com/
---
March 31, 2017 - Gilbert Baker has passed away at the age of 65.