3 Girlz Band previously (Girlz Like That) are an absolute blast! Their music is fun and funky and if you like rock with some heavy bass, this is the band for you. Check out the musical clips on their website, but in all honesty, they don't do them justice. Make sure you listen to the Bonus Clip at the bottom of the page called Jezebel. These gals are awesome performers! If you get a chance to see them live, don't miss the opportunity. They turn a concert into a party.
From their website: "With each of the Girlz writing music and lyrics and singing lead and harmony vocals, they produce a diverse blend of original material reminiscent of many artists like, Fleetwood Mac, Queen, Melissa Etheridge, Bob Dylan, Indigo Girls and Heart. The HITMAN pulls it all together with driving beats and complimentary percussive elements.
3 Girlz Band & the HITMAN tunes come in many different flavors with waves of in-depth texture. From solid hard-edged rock to underground pop, tainted blues, dandelion folk and whatever else inspires them--you can be sure to find a groove that satiates your musical hunger!"
Buy their music in the Christian Gays Store
---
Anna Gutmanis - an award-winning Canadian songwriter, singer and keyboardist, entwines her brave, edgy lyrics with deep, blues-style vocals.
In 2011, Anna and Juno-nominated producer Karen Kane brought together some of the Toronto area's most talented musicians to record a new album of original material entitled Glimmer In The Dark.
The two previously worked together on Anna's single I Am Who I Am, which won the Pride in The Arts "2009 Pride Song" Award.
Anna is a longstanding musician on the Canadian music scene. The single, Then Came You, from her 1989 self-titled album, can still be heard on Canadian commercial radio stations. This debut release received airplay in every Canadian province and territory, and further songs earned her a FACTOR Grant for Canadian Talent on Record.
Glimmer In The Dark is Anna's strongest work to date and is enjoying great success at Canadian Campus Radio and at international LGBT radio. Look for video from Anna's album launch, now in the works, and further gigs.
---
Art of Pop: For The Light of Love - An Inspirational Music Artist/Label
Art of Pop is a transgender, Christian artist, performing music in several genres, most of which is sacred/inspirational, some secular. She is currently making a shift into direct and assertive Christian ministry, with respect to her Pop profile "Alyras" as well as her Jazz profile "de Cygne."
Note from Mary: I LOVE her music!
---
BALM Ministries - Marsha Stevens' Website. Everyone knows her as the "Mother of Contemporary Christian Music". She is also known as a ground-breaking, brave soul who first spoke out in song to our gay Christian community long before it was a safe thing to do. Her courage, demonstrated in her music, has changed the lives of so many of us for the better. I think she should be canonized. ūüėČ
Note from Mary: Marsha was tremendously instrumental in my reconciliation process and I will forever be grateful to her. Thank you Marsha!
---
ChristianAndreason.com - Christian is an amazing Spirit-filled, talented entertainer. His music has great energy and a deep faith which shines through.
You will find some of Christian's music in the Christian Gays Store.
---
Dan Dyson Music - Dan Dyson is a gay gospel singer/musician in Nairobi, Kenya, who began his career in Uganda in 2001. He began as a back up singer for Rev. Father Musaala, who is a Pearl of Africa Music Award Winner in Gospel Music in Uganda.
Dan recorded seven albums with Father Musaala from 2001-2009 and released his first solo album in 2008, titled "Tumusinze" which means Let's Worship Him in Luganda, which is Daniel's native language.
Dan's vision is to spread the gospel of Jesus Christ, and the love of God through his music. He knows that people all over Africa and the world are suffering, and he wants to show love through his soulful music.
---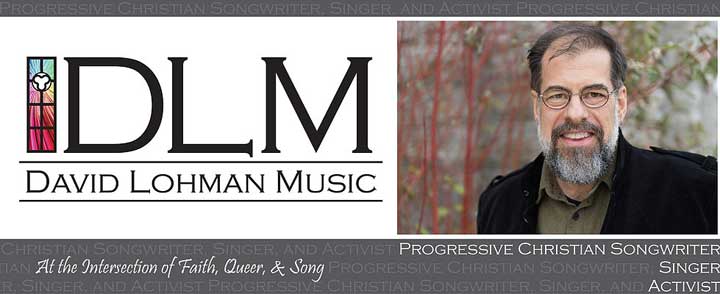 David Lohman Music - Progressive Christian Songwriter, Singer, Activist - At the Intersection of Faith, Queer, & Song
MUSIC to INSPIRE us to bigger dreams,
SUSTAIN us when our hearts grow weary,
and STRENGTHEN us as we work to change the world.
Worship Resource Bundles contain EVERYTHING you need in order to use this music in worship - all in one simple download.
For your MUSICIANS:
Fully-notated piano accompaniment
Lead sheet for rhythm section: guitar, bass, and drums
Optional instrumental parts for C and B♭ instruments. 
For your CONGREGATION:
Bulletin insert in pdf and jpg formats
PowerPoints that include melody line notation!
I believe that when we only project lyrics, we inadvertently tell our visitors that they are outsiders. By projecting words and melody, we provide everyone - long-time members and visitors alike - the same opportunity to participate.
---
Hymnancipation! - is a series of CD's by John Michael McCluney celebrating the great traditional hymns of the Christian faith.
These instrumental improvisations for multiple synthesizers embrace each hymn tune with a musical style that has been described as refreshing, engaging, exhilarating, innovative, contemplative, faith-filled and joyful.
The intention is to expose and explore the beauty of form and content in each exquisitely crafted tune, with a desire that these renditions will somehow enable yet another generation to be caught up in their enduring quality
These hymn tunes deserve to be liberated from the confines of the church sanctuary. Listen to them in your home. Take them with you in the car. Play them on jogging and bike trails. Use them for personal meditation. If you feel like dancing to them, THEN DANCE!
Make them familiar friends; and they will enrich your personal life, as well as your worship life.
---
Jason T. Ingram - singer/songwriter, multi-instrumentalist, openly gay Christian artist, "ex-ex-gay" (survivor of religious programs to try to change one's orientation), mental health peer and advocate, LGBT activist.
---
Jason & deMarco have had the opportunity to perform at numerous high profile events including the National Gay and Lesbian Task Force Awards in Los Angeles, the Matthew Shepard Foundation's annual gala in Denver, and the 2006 Human Rights Campaign Gala at the Waldorf Astoria New York."
They have also been a part of the Human Rights Campaign star-studded benefit two-pack CD album celebrating marriage equality, "Love Rocks", alongside artists such as Christina Aguilera, Pink, and The Dixie Chicks.
Jason & deMarco will be celebrating 14 years together this summer. In 2011, after touring almost a decade together, they welcomed twin sons through surrogacy, each a biological child with the same biological mother, which is documented in Jason'Äôs recently released book, 'ÄúThe Journey of Same-Sex Surrogacy'ÄĚ available on Amazon.com.
---
Jeanine Noyes is not gay, but she's a beautiful Spirit-filled Christian and the most versatile musician I know. She jumps easily from old standards like "The Tennessee Waltz", to 60's rock 'n roll, to blues, jazz, folk, country and classical. She's a fabulous singer/songwriter/instrumentalist/entertainer. Jeanine has been compared to Sarah MacLaughlan and Carly Simon.
Her roots are in Kingston but Toronto is now her home. If you get a chance to see this woman perform live, prepare yourself for a great evening of entertainment - and if Fegus Marsh is accompanying her, you're in for a double treat. Fergus plays, among other instruments, the Chapman Stick with incredible expertise. If you're not familiar with what a Chapman Stick is, read about it at Stick Enterprises. It's an amazing instument in the hands of an accomplished musician. Fergus has played with Bruce Cockburn for many years and more recently with Steve Bell.
Jeanine has just released a most unique Christmas CD. If you want to give a special present to someone, please buy one from her website.
Buy Jeanine's music in the Christian Gays Store
---
Jenica Rayne has been a dear, dear friend for many years. She is an amazingly talented full-time, professional musician. Some of the clips from her website describe her best.
"Jenica is committed to education and good living. Her music is inspired by her deep desire for harmony and peace. . . . an advocate of social and personal change, an accomplished guitarist, passionate songwriter and seasoned performer."
"She is equally comfortable on stage solo or with a band, always engaging her audience with personal stories and humour. She has been heard on Canada√ēs CBC radio, featured on Vancouver's Coop radio, and numerous local radio stations. In 2000 she successfully toured Canada with her all female band 'Rhythm & Rayne' playing shows from BC to Quebec. She was the initiator and organizer of 'Queen Size Groove', an all female swing/jazz band based in Kingston, Ontario playing music festivals in the summer of 2002. In the summer of 2003 she embarked on a tour of Canada teaming up with violinist Brian Flynn and reuniting with her band 'Rhythm & Rayne' in Vancouver."
Buy Jenica's music in the Christian Gays Store
---
Jules Morgan - is a gay singer songwriter and guitarist, from Peterborough England. In 1971, Jules' family emigrated to South Africa, where she learned to play guitar, and became influenced by the sounds of Cape Town. Jules returned to the UK in 1989.
Passionate about music, in 2005 Jules began writing her own songs. During this time she has written and composed numerous songs about the twists and turns of love and life and hopes that the messages within her songs will touch and influence people positively.
During the past ten years, Jules has played in local bands, sung solo at festivals such as Peterborough's City Roots, Grassroots and London's Wharfstock. Jules and her songs have been featured on local community radio Peterborough FM, and she has become well known on the Peterborough music scene for starting and hosting the popular Cherry Tree open mic night, providing a platform for local musicians.
Jules recorded her debut track Someday Sunday, with Nepenthe Studios in Northamptonshire in advance of an EP - due out later this year. A Christian - Jules' first CD was released to raise funds for her local church St Guthlacs of Market Deeping.
Watch Jules sing "A Love Song" written for her wife on their anniversary.
---
Justin Ryan - is a product of the Marsha Stevens-Pino upBeat program, and has worked with many Gospel greats such as Dottie Rambo and Vestal Goodman, as well as Country Music stars such as Porter Wagoner and Lynn Anderson.
Justin is one of the featured artists on Songs of Praise from a Strange Land. Follow the link to listen to the CD.
---
Marshall Grant Ministries - focus is on exhortation to evangelism, worship and GLBT affirmation. They use a variety of song styles (solo and duet), Readers Theater sketches and share personal testimony and experience to direct the audience to their intended focus for each piece. Carolyn Marshall's clear soprano voice and Pat Grant's comedic style offer a wonderfully unique worship experience!! They are both entertaining and spiritually uplifting.
---
Matthew David - His smooth rock vocals on his debut single "Masquerade" have created a stir in the music scene from the West Coast to New York and received radio airplay almost immediately. Strong, inspiring lyrics and an impressive contemporary rock arrangement were merged with Matthew's engaging vocal style to create a first release that is fueling the anticipation of his first full-length album. The Vancouver based singer-songwriter got his start like many of today's chart-topping artists - by singing in church. Since he was 4, Matthew has been exploring and learning the art of performance. At 18 he packed his bags and moved to England where he studied voice and theatre in London's West End. Since returning to Vancouver, he has been focusing on maturing his sound and crafting his lyrical content.
In November 2009, Matthew released his debut EP album "Masquerade" to a flurry of media attention. He followed up this release with a single in conjunction with the 2010 Games, called "Today" in February 2010. Find all of Matthew's music on iTunes and other major online distributors!
OLYMPIC UPDATE: Matthew's latest single Today was chosen as the Olympic Host City of Richmond's Official Theme Song for the 2010 Games. As the anthem of the City's Dream It project, Matthew stars in the music video gift to the athletes coming to Canada to fulfill their lifelong dreams. See the video and hear the song below!
---
Michael Franklin - (Mic-kale). Singer, Songwriter, Musician. "Music is my passion, and my soul!"
For many years I have been involved in many different aspects of the ministry, and I have held various ministry offices since 1989, from Youth Minister, and Praise Director, to Associate Pastor, to Founding/Senior Pastor.
I am a firm believer that being a Christian should be about being real, and it should be fun, and not a burden. God is about Peace, Love and Joy!
---
Neptune's Daughter - Roxy DelMonaco is a Southwest Florida, Christian lesbian, artist, poet, musician and photographer. This multi-talented woman is about to release her debut album Still Waters in the Spring of 2008. In the meantime, please check out her website to learn more about her and see some fabulous photography.
---
Shawn Thomas Online - Shawn Thomas is a contemporary Christian singer/songwriter and worship leader whose ministry includes an outreach to the GLBT community. Shawn visits churches, groups, and events sharing the Grace message of God's Love, through concerts, workshops, and spoken message.
He received the 2008 Editor's Choice Award from QNation.fm for the single, "You Are Here Lord," and is a three-time Pride in the Arts Awards (StoneWallSociety.com) recipient and 10-time nominee. In 2009, his compilation CD, "Revisited Vol. 2," was named Album of the Year by the Voters' Choice Awards from the "Unashamed Faith Cafe" Radio Program.
Shawn and his partner, Brian, make their home in south Florida along with "the Pug-Dog-Almighty", Zoe'.
---
Shawn Thomas Studios - is located in the West Palm Beach, Florida area and offers the most up-to-date recording technology available. All material is digitally recorded on computer using Pro Tools LE /Digi 002 complete audio/MIDI 48-track real-time mixing and effects hardware/software. This powerful integration of multi-track digital audio and MIDI sequencing allows the best quality in recording, mixing, editing, and mastering professional audio.
From basic demos, to fully orchestrated CD/albums - now you can record with someone you can trust, and who understands and supports your calling in music and/or to ministry.
---
Tamara Lebak - is an Oklahoma singer/songwriter born from two singer/songwriters and mother of an 8 year old. Her melodies are simple americana/folk rock inspired and lyrics are memorable and layered in meaning.
Her current album project is The Psalms Project vol. 1.
Tamara embodies inclusivity before she's even begun to sing. Tamara is an ordained UU minister who believes that the Bible is ultimately about the relentless and persistent love of God for everyone. She is writing a song based on the Psalms (in order). Tamara wants to introduce a new generation to the Psalms through music grounded in scripture but filtered through a lens of today. 
She has completed a congregational hymn book for Volume 1 Psalms 1-25, is touring nationally to share these new songs with her drummer and wife Bonnie, and continues to write weekly with plans for Volume 2 (26-50) in 2020.
---
WNCCA Radio - is a ministry under First Day Broadcasting of New Covenant Church of Atlanta. We are a safe affirming place where the unconditional love of Jesus is shared via music and The Word for all Gay, Lesbian, Bisexual, Transgender, Questioning and Straight Affirming Christians. We are The Voice for Affirming Christians Everywhere!
---