"Nothing you do in the Lord's service is ever useless" 1 Cor. 15:58 b
Dear Mary:
We are SO thankful for the work you are doing with Christian Gays.
We met there some months ago. We were so far away, José in Dominican Republic and me in Portugal.
We both were lonely and prayed before we met and … we met! Now we are legally married and SO happy.
We praise God for your ministry and we send you this mail to encourage you to realize that your work in the Lord is not useless.
We praise and thank God for your ministry. Without it we would never have met.
May God bless you very much. We sent some photos of our marriage day.
Yours in Jesus:
José and Fernando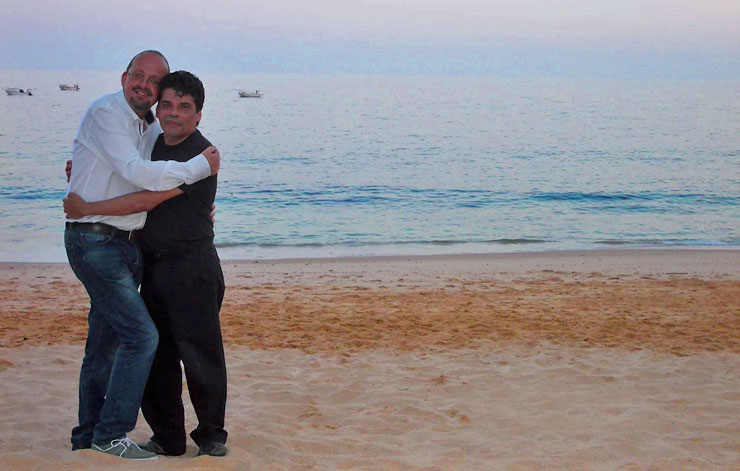 January 21, 2018 – Update
Dear Mary:
Do you remember us?  Five years ago we met in Christian Gays.  Me, Fernando, from Portugal and José from Dominican Republic.  We married in 25th May the same year.

Now, five years later we are each time more happy.  We bought our own home in Faro, a beautiful city in Algarve (South Portugal).  I teach there in a High School and José works in his artistic work.
José asked for the Portuguese nationality and since 10 months he is Portuguese.  Portugal is SO beautiful.
Portugal is a very gay friendly country.  To be gay here is not a problem.  Even my mother, who is 85 now, after some time of adaptation is very happy and loves José like he was his son.  My three daughters also love him very much.
I remember, 5 years ago, I was so sad and I prayed the Lord before trying again to make a real contact in Christian Gays that in DR there was a man doing the same prayer.  God is so good!!!
May the Lord bless you and your ministry.  We keep you in our prayers and in our hearts.
Yours in Christ:
Fernando and José