Campit Outdoor Resort, Saugatuck, Michigan

Campit is an outdoor resort for Gay and Lesbian adult members and their friends.
We're located just 10 minutes from Saugatuck/Douglas, Michigan in the Midwest's most popular Gay and Lesbian vacation destination.
In addition to camping for both tenters and RV'ers, Campit offers a number of lodging choices including 20 Log Cabins, a five bedroom Bunkhouse, and Vintage Trailers.
Our weekly events and activities schedule, heated pool, clubhouse, and a variety of other amenities provide a variety of choices for outdoor recreation in a very social gay & lesbian environment.
---
CampOut - Kent's Store, Virginia
A secluded, natural, getaway for women. Home of the Virginia Women's Music Festival
CampOut is open for camping from April through October. We have other special events and weekends.
Our biggest event of the year is the Virginia Women's Music Festival. Join us Memorial Day Weekend for music, dancing, games, and great food. Be a worker, be a vendor, or just be there!
---
Dunes Resort - Douglas, Michigan

There's something for everyone at The Dunes, Michigan's premier gay resort, and one of the largest LGBTQ entertainment complexes in the Midwest.
Party and play at Michigan's only gay resort, and see why visitors from all over the country choose the Dunes for their gay friendly vacation here in Saugatuck, Michigan.
A four seasons gay nightclub (The Club) featuring the country's top DJs
A cabaret with live entertainment (Show Bar) – Summer weekends (May – October)
One of the best outdoor patio gay bars in Michigan (The Deck) – Opens May 14th
A game room that overlooks the main bar and deck (Vinyl Lounge)
Poolside drinks and entertainment all summer long (Splash) – Opens for the summer May 20th
A Gay Friendly Vacation – For All Seasons!
The Dunes Pool and Splash are open daily May – September, and are the "place to be" on sunny afternoons during your gay friendly vacation. But the fun doesn't stop when the weather gets cold! The party moves indoors with Karaoke Nights, Bingolicious, dancing at The Club, and more.
All the Dunes Venues are 21 and older, and all Venues are non-smoking.
---
Duneswood Resort - Empire, Michigan

A safe place for everyone - friends, family, individuals and groups.
Open all year, our 7 acre resort sits in the center of Sleeping Bear National Lakeshore and right on the Sleeping Bear Heritage Trail (biking, skiing). It's just a short walk/ride to the famed Dune Climb, Lake Michigan, Glen Arbor and Empire.
We have bike rentals on site too!
Duneswood offers a unique harmony between the beauty of our natural surroundings, the comforts of modern living and the nostalgic allure of a simpler time.
Guests are welcome to use the picnic tables, BBQ grills, lawn chairs and the fire circle.
LOO (Lesbian Owned and Operated)
---
Gap Leisure Getaways - International - Gay and Proud Holiday Accommodations
Directory of Hotels, Guesthouses, Bed and Breakfast, and Self catering
Luxury to bargain, and many specials.
---
Gaslight Inn - Seattle, Washington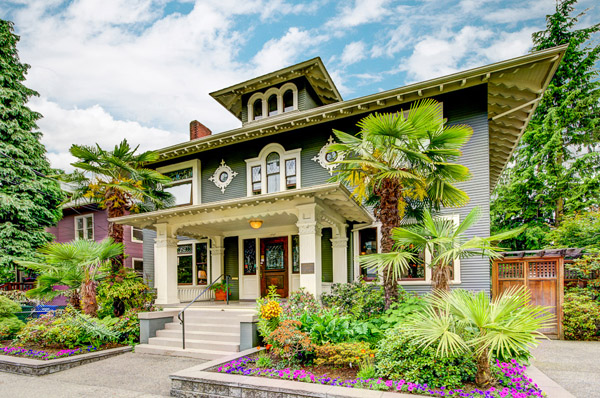 The Gaslight Inn, a Seattle bed and breakfast, is conveniently located on Capitol Hill, the city's most exciting neighborhood that also happens to be closest to the center of the city and only about 20 minutes north from the airport. All of Seattle's main attractions including Pike Place Market, are either in walking distance, a short taxi ride or a metro bus ride away.
---
Gay Friendly Guide To Canada - Canada is one of the most enlightened, gay-friendly countries in the world - a truly gay-welcoming place, and a must visit for gay tourists. Canada is one of the few countries on the planet to provide FULL legal rights for same sex couples - including the right to get married. Thousands of same sex couples from the USA are moving to Canada where they have full legal rights and are treated with respect. Our Gay Friendly Guide to Canada will help you get the most from your visit. We name the best gay-friendly cities, we explore Canada's world-famous gay-villages, and we help you choose genuine gay-friendly accommodation. 
Canada is one of the most enlightened, gay-friendly countries in the world - a truly gay-welcoming place, and a must visit for gay tourists.
Canada is one of the few countries on the planet to provide FULL legal rights for same sex couples - including the right to get married.
Thousands of same sex couples from the USA are moving to Canada where they have full legal rights and are treated with respect.
Our Gay Friendly Guide to Canada will help you get the most from your visit.
We name the best gay-friendly cities, we explore Canada's world-famous gay-villages, and we help you choose genuine gay-friendly accommodation.
---
Gay Roommates - PrideRoomMates.com - Selected Countries
Are you looking for a gay roommate service? If you are gay, lesbian, bisexual or transgender and need a room for rent, are looking for a gay roommate, would like to place a gay roommate ad, or have your own room to rent out, then Pride Roommates can help!
---
Gay Travel Guide Europe - Europe
Features 22 destinations in Europe from hot-spots like London and Barcelona to lesser known destinations like Lisbon and Granada.
---
GayTravel.com - International
Provides you with the greatest selection of vacations specifically for LGBT travelers. From large-scale gay and lesbian cruises to unique tours, adventure travel and experiences, Gaytravel.com brings you the best offerings available. It's easy to research and book your vacation online.
Looking for a place to stay or information about a certain destination? Search our Lodging and Destination Guide where you'll find the finest gay-friendly places to stay.
In our Vacation Packages section, select the vacation you've been looking for and make your reservation. Your next trip is just a few clicks away!
---
(The) Hacienda House at Warm Sands - Palm Springs, California
The Hacienda at Warm Sands is much more than a fashionable gay resort. We want you to be totally cocooned by the peaceful, calming and nurturing environment which is skillfully complimented by our staff's professional, pampering, attentive and personalized (yet unobtrusive) seamless guest services. The Hacienda is: "More Than a Resort – The Hacienda is an Experience" …where Palm Springs' mountains and palm vistas are delivered by nature and pampered services are provided by your devoted Hacienda at Warm Sands staff. Expect the uncommon.
---
(The) Heron House - Ashville, North Carolina

The layout is open and includes a living and dining area as well as a large kitchen that is well-stocked with varying sizes of pots and pans for your cooking needs.
There are three queen bedrooms and two baths: The Little Heron room, a cozy bedroom at the front of the house; The Labyrinth room, located at the back of the house overlooking the labyrinth and with its own private bath; The Heron Suite, with its own art studio, and located on the sunny south side overlooking a lovely wooded lot.
On the land is a bold creek, a wonderful swimming pond, labyrinth and plenty of places to sit and reflect, write, draw, read and rest by yourself or with loved ones and friends.
The Heron House is also a gathering place for the local women's community. Once a month, we try to host a range of women's cultural events from house concerts to Winter Solstice celebrations, movie nights to author speaks!
 
April 2017 we'll be hosting well known scholar and feminist historian Bonnie Morris and her new book, The Disappearing L!
 
Additionally, The Heron House is available for full or half day rental if you have a workshop you'd like to host. Our hope is to continue to make The Heron House a place of gathering for groups of women as well as a unique and loving space for individual retreats.
---
(The) Highlands Inn - Bethlehem, New Hampshire

Located on 100 private wooded acres in New Hampshire's beautiful White Mountains, The Highlands Inn is truly "A Lesbian Paradise."
The Inn has 17 guest rooms, all with private baths. Several rooms have special amenities, such as a private deck, fireplace, two-person spa, or both a spa and fireplace. Rooms and common areas are furnished with antiques, fine linens, original artwork, and fresh flowers, creating the ambiance of a Victorian country home. In keeping with this atmosphere, guest rooms feature distinctive period pieces; many have a four-poster or canopy bed handcrafted by local craftsmen.
In the winter, our trails provide outstanding cross-country skiing and snowshoeing. We have a private indoor hot tub located a few steps from the Main Inn. Our living room is a wonderful spot for a cozy glass of wine by the fire, or a game of scrabble, after a long day of skiing at one of our nearby ski resorts.
In the summer, guests enjoy the heated 54-foot pool with its surrounding sundeck. Leisurely walks and more strenuous hikes on the Inn's 15 miles of well-maintained trails are always popular ... the trails are also great for mountain biking. And New Hampshire's fall foliage is world-famous!
A massage is the perfect way to relax on your vacation! Our massage room is on the second floor of the Main Inn, so you can enjoy your massage without leaving the property. You can request a massage when booking your reservation, or by contacting the inn. A relaxing one hour massage is only $70.
Note from Mary: I have stayed here several times. It's everything they say it is!
---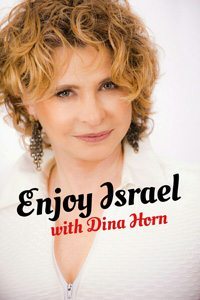 (Enjoy) Israel With Dina Horn - Israel
Dina has been a licensed tour guide in Israel for the past 12 years.
She is dedicated to leading LGBT visitors through the country. With special education in History, Geography, Archaeology, and Christianity, she is able to provide a unique adventure by following many biblical heroes, and with a special emphasis on Jesus.
The Land of Israel, the home of three major religions, is an extremely accepting, gay-friendly, and open-minded society.
Dina's goal is to provide you with the best, most informative tour, and also to create a link of brotherhood between you and the people you're going to meet.
---
Journey Weavers - Costa Rica, Mexico, Cuba, Netherlands, Peru

Journey Weavers Educational Travel in Ithaca, New York and Aventuras Yemaya in San Jose, Costa Rica offer a wide variety of domestic and international travel opportunities.
We offer outdoor adventure, hiking, birding, language, and cultural programs for the general public, for women only, and for the lesbian/gay/bi/trans and their allies community. In addition, we can set up internships, volunteer opportunities, and individually designed programs.
With a Group or On Your Own
Birding, Photography, Exploration, Language Study, Outdoor Adventures, Individually Designed Trips, Destinations, Programs
---
Kuyay Travel - Patagonia, Chile, Argentina and Brazil
Gay & Lesbian Adventure Travel
We know you have numerous options when it comes to planning your vacation, especially the number of large, mainstream operators and agencies. Unfortunately, the offerings of tours for Gays and Lesbians is still limited, in particular those of the nature and adventure variety.
Here are a few reasons to consider Kuyay Travel:
Kuyay (which means "Love" in Quechua, the most spoken indigenous language in Latin America) is a local company, so your business supports the local economy and helps preserve the beauty of our natural environment,
We are the only Gay-owned and Operated Tour Operator / Travel Planning business in Patagonia understanding the unique needs of the GLBT community,
Since we own and operate the business, planning, decision-making and problem solving are quick, and our personalized service is unbeatable,
We know that our clients primarily want a hassle-free vacation, customized to their needs, exceeding their expectations, and all at a fair price,
Our escorted tours are very limited in size (8 max.), which both reduces our impact on the environment and ensures a more intimate experience,
There are no "middlemen", so by keeping our overhead low and working only with local operators and GLBT businesses, our prices are nearly as amazing as Patagonia itself!
English and Spanish speaking Driver and Guide at all times.
Transport: 2006 Mercedes Benz Sprinter (Luxury Van for only 8 passengers).
Gay Christian owned and operated by Perry and Felipe.
---
Labrys Resort For Women - Honor, Michigan (36 mi from Traverse City, MI)
Labrys is a place where women can come together, be close to nature, renew friendships, and rejuvenate relationships. It is also an ideal space for solo retreats for writers, artists, and musicians – anyone looking for a space to create or do some soul searching.
Lesbian owned and operated, Labrys has been a getaway for women for over thirty years. Our four charming, rustic cabins will encourage guests to unplug, light up the tea kettle, and relax and reset from the hustle and bustle of everyday life.
For those of you looking for outdoor enjoyment, kayaks, a canoe and a rowboat are available for your use on our quiet lake, as well as a picnic area and a small beach with a fire pit and a dock. Also – a guest favorite – the hot tub!
Labrys is dog friendly!
---
Mis Casas - Lake Bacalar, Quintana Roo, Mexico
 

 
Vacation Rentals, Group Accommodations, and Adventures on the Shore of Lake Bacalar, Yucatan, Mexico
Mis Casas is a small-scale eco-conscious retreat.
The north end of Laguna Bacalar was declared a federal biosphere area in 2005 and we feel honoured to be one of the few resorts offering accommodations in the area.
The land we occupy is part of the Ejido Pedro Santos, and as caretakers of this beautiful jungle locale we support and appreciate our governing townsfolk.
The eco-touristico site of Uchben Kah is located just 2km north of us on the lakeside. It is a pleasant trip from Mis Casas by foot, bike or canoe. Walking through this area is a birders delight.
There are four vacation apartment units to choose from. Each unit has electricity and its own private three piece bathroom.
We offer reduced rates for longer-term stays and encourage people to build a relationship with Mis Casas.
Mis Casas is an ideal location for a family or friends group of up to 15 people.
Book all 4 units for a private resort all to yourself.
LOO - LGBT friendly
Note: The owner is a friend of Mary
---
(The) Most LGBT-friendly Cities in the United States - Of the 37 All Star Cities, 22 received a 100 rating despite their state lacking LGBTQ protections.
---
New Mexico Women's Retreat, Guest Houses & Healing Center - Serafina, New Mexico


We are a tiny non-profit with a grouping of sweet beautiful adobe casitas located on 1,000 acres of high desert wildlife preserve in northern New Mexico.
Outland is surrounded by state trust land and national forest, adding to our privacy and peacefulness. This terrain offers a rare opportunity to immerse yourself in and connect to the wonder and wildness of nature in a supportive community environment.
We have an abundance of wildlife, indigenous plants, expansive views, incredible peace, howling coyotes, moon majik, red clay mesas, awesome arroyos, and wonderful women!
---
OutTraveler - International - The standard in gay travel. Featuring gay travel tips, travel stories and gay events.
---
Oxbow Lakeside Community Club - Muskoka, ON, Canada

Lesbian-owned, shared cottage community.
Wake up to a beautiful view of the lake and the sounds of the loons in the early morning, bask in the magnificent sunsets from the dock, or delight in marshmallow and wiener roasts in our fire pit by crystal clear, clean, Oxbow Lake.
Oxbow Lakeside Community Club (OLCC) is a co-operatively owned lesbian cottage community and we are pleased to offer cottages for rent to all gay-positive people.
---
Passport Magazine - International - is a leading gay travel magazine (both online and print) that focuses on gay friendly travel destinations, travel videos, gay travel guides and news.
---
Portugal – House Available
Hello Friends. We have a large house in Central (Rural) Portugal and would love to welcome any members or friends who would like to visit and make a European connection.
At this time there is a three bedroom apartment on the ground floor available which could be rented entirely or as single or double rooms. This could be short or long term at any time of the year.
Belmonte is a conservative rural – definitely non-scene community – on the edge of mountains, rivers and lakes, and connects directly with the capital City of Lisbon or Porto by Express Bus.
It's a great place to get away from it all, but connected to the reality of life in the modern world (e.g. – internet, Wi-Fi, transportation, etc.)
We are not a commercial enterprise – just a welcoming couple.
Please publicise this information if you can and let's try and live together post brexit!!
---
Purple Roofs Gay & Lesbian Travel Directory - International - Bed & Breakfasts, Inns, Guesthouses, Hotels, Travel Agents & Tour Operators - The only site with an interactive map, this is a superb directory.
Though you can't book a room directly from the site, you can make reservation requests and link to official hotel and B&B sites for the final transaction.
Mention Purple Roofs and you may end up with a 5% - 10% discount.
Note from Mary: I know of a couple who took a driving holiday through Ontario and Quebec and booked all their reservations through Purple Roofs. They were delighted with their service!
---
Queertrip.com - International - an online LGBT travel agency established in June 2008, Queertrip.com consists of dedicated LGBT travel specialists teamed up to bring you the best gay and lesbian travel worldwide.
Queertrip.com is gay owned and operated. Our goal is to make travel better and easier for the gay and lesbian traveler.
At Queertrip.com, we believe in giving back to the LGBT community, so that's why we are giving back a portion of the proceeds to LGBT charities.
Our technology, service, and user friendly web site allows users to search every airfare, hotel, car, and cruise company available.
Best of all, you'll find all the gay and lesbian travel information on destinations including gay owned and operated hotels, bars and clubs, attractions, shopping, restaurants, and more all in one conveniently located site.
Queertrip.com searches for fares listed in the GDS's (Global Distribution Systems), negotiated contracted rates, sale fares, as well as web fares on the internet.
Our search engine finds them all in one easy to use system delivering you all the fares. At Queertrip.com, we believe it's the way you travel!
---
Rose Acre - Provincetown, Massachusetts

Rose Acre is a rambling 1840 Cape House, tucked down a private drive in the center of town. This "Provincetown Classic" and woman's house, was once the domain of a Portuguese fishing family.
We are close enough to the bay for some water views, the sound of the fog horn and the sweet smell of fresh salt air.
Designed for comfort and the artist in all of us, units are adorned with wicker, art and flowers.
A spacious private yard and garden invite you to relax, sun and picnic.
So come visit and help celebrate a place where the light is bright, the streets are narrow and minds are broad.
Open May through October
Owner occupied: ~ Carol & Rose
---
Sugarloaf Women's Village - Forida Keys

Sugarloaf Women's Village is a land trust and intentional community located in the beautiful Florida Keys, dedicated to enhancing the lives of women by providing space to live, work, create, learn and play together in a lush, tropical setting.
Our campground is a large, landscaped lot for tenters as well as small, self-contained RVs. There is a beautiful outdoor shower, with hot water, and a composting toilet in the campground. Campers may also use the kitchen, bathroom, and library in the Community House.
One of our houses serves as a Community House, and visitors may stay in its 2 private bedrooms. The Community House is also used for gatherings and pot-luck suppers.
There are 3 private guest spaces. One of them is tiny, only a bedroom & deck facing one of our 3 undeveloped, wooded lots. We call it The Chalet, and it is suitable for one woman.
The second is in the center of the developed part of the property. It has a bedroom, kitchen/sitting room, and bathroom. We call it The Guest Cottage, and it is set up for a couple.
The third space used to be Jane Verlaine's art studio. It is a large room with a full kitchen and bath, dining area, and queen bed.
The kitchens are completely furnished, and we provide towels & bed linens for the indoor accommodations.
Wireless DSL service is available in the Community House and most places on the land, so all you need to bring is your laptop.
---
Why go on a Venus Adventures women-only holiday?
• Travel with like-minded women: it's like travelling with friends! Venus Adventures specialises in women-only holidays and travel.
• We take you to amazing and exotic places which you might not visit on your own. You can enjoy these places in the comfort and safety of a group.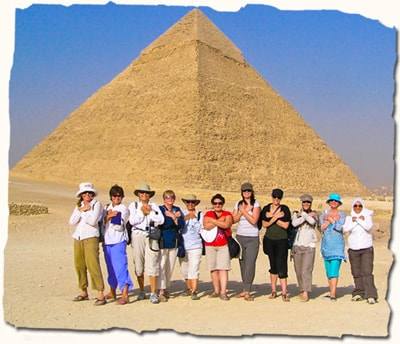 • Time for some fun! Some trips are more cultural, some are more adventurous, all of them are fun.
• We do things women like to do: from cooking classes, to drinking tea and chatting with the locals, to trawling the markets for exotic treasures, to enjoying gin and tonics as the sun sets over the desert! And you can shop whenever you like 🙂
• Take on a new challenge: If there is a great little adventure to be had, we do it - but we only do things that are fun and worthwhile and add to your experience. This might be a scenic hike in the mountains, or a camel ride into the desert, or even a fun raft trip.
• Meet the locals: We make sure you have interaction with the local peoples to really get to know them and how they live.
• RELAX you are on holiday! Venus Adventures trips are all-inclusive, so no need to worry about money on the trip (… except when you might go mad shopping). In fact there is nothing to worry about at all, because we take care of all the details.
• Enjoy: We sample the local food, we stay in clean, comfortable accommodation (twin-share basis, but single supplement available on request).
• Travel in a small group: for a more authentic experience.
• Help out: In certain destinations we "give back" to support communities, schools or hospitals by donating clothes, school books etc. Always a rewarding experience.
• Respect: We adhere to a responsible tourism code, respecting the people and environments we travel in.
• Make new friends: When traveling with other women, you won't ever feel lonely, confronted, or excluded - it is an encouraging and supportive environment, where you can let your hair down.
• GET SOME EXCITEMENT IN YOUR LIFE! JOIN US ON A WOMEN-ONLY ADVENTURE.
---
Women Travel The World
-
International

We invite you to discover some amazing accommodation, retreats and tours which especially cater for YOU, the woman traveller. From women's hotels in Europe to walking women's tours in Africa, to luxury pampering spas.
Who is the Woman Traveller? Who uses this website?
Women travelling alone
"Its great to have a place to stay where I feel safe as well as have some company to share travel stories with"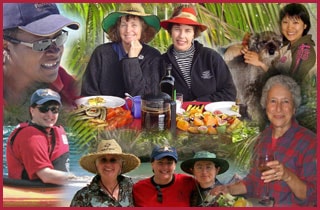 Single women travellers
"Joining a small women's tour group was fantastic - we had such fun and I tried some things I have never dared try before"
Groups of women friends travelling together
"Our bookclub takes off once a year and loves to stay together in a women's space",
Volunteers
Women who want to get involved with places they visit.
Lesbian travellers
"It was so good to stay in places where we could relax and be ourselves".
Women Travel the World - the Network...
We offer a network of women owned businesses around the world who cater especially for women travellers.
Woman Travellers pay nothing for this service, they make direct contact with accommodation or tour providers, so no hidden costs or commissions. Join our email newsletter to keep in touch with developments.
Some businesses are for women only, a few lesbian only, others welcome everyone, but offer a special welcome to women travellers.