Let Mary create your own Personalized Marriage Certificate for you. Read about them on the Store.
---
You may also wish to visit the Same Sex Marriage Miscellaneous page where you will find information such as where gay marriage is legal, a beautiful love song by John Long, a wonderful video presentation of Ray Boltz singing "Don't Tell Me Who To Love", information about gay marriage in the Bible, and lots and lots of articles about same sex marriage.
---
Gay Wedding Blog UK - Events, Fashion, Featured, Inspiration, Real Weddings - Styled Shoots, Suppliers, Planning
---
(The) Gay Wedding Guide - UK - They are based in the UK but even if you're not there, their website is excellent with a lot of great ideas for your wedding. Do check them out.
---
Gay Wedding Values.com - How are the weddings of same-sex and opposite-sex couples different? The answer is the lack of information for gays and lesbians. I know because I got little help on-line. We looked for gay friendly readings, religious vs secular ceremonies, tips on invitation wording, and ways to keep the cost down. It seemed like so much could be said but no one was. We did not need help planning a party. We needed help taking a valid ownership of marriage as a gay expression. So I set out to help people in the way I wanted to be helped.
---
GayWeddings.com - USA - Gay Wedding Resource Directory by State, Wedding Store, Newsletter, News & Tips, Ideas & Advice.
---
GWM - Gay Weddings & Marriage Magazine - Gay Weddings and Marriage Magazine goes beyond wedding day tips to address the needs of LGBTQ families and marriage. Advice from wedding coordinators experienced in LGBTQ ceremonies are mingled with tools from marriage counselors to make a relationship successful. GWM also addresses the family planning needs of so many LGBTQ couples with columns regarding adoption, foster care, surrogacy, and more.
---
LGBTQ Hawaiian Wedding Resources - Hawaii was among the first states to legalize same-sex marriages and remains one of the most beloved wedding destinations to this day.  That's no surprise due to its crystal-clear ocean waters, exotic scenery, fiery lava flows and the contrast of tall mountain peaks and beautiful beaches.
If you're proud to say 'Yes' on the islands, you've come to the right place:  we've collected LGBTQ-friendly vendors for your every wedding planning need.  
---
MPSG Weddings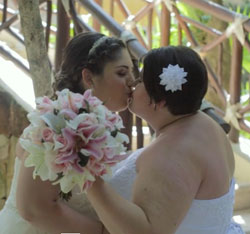 - Canada/Worldwide
Award-Winning Wedding Photography & Cinema
We capture precious moments to tell unique & timeless stories.
Always growing, MPSG is a group of artists working to create lasting memories that become your family's first heirloom. When you look back on your special day, decades from now, you'll remember what it was like to say "I do".
Click on the picture to see Tanya & Victoria's wedding video.
---
RainbowWeddingNetwork.com USA - offers immediate access to gay-friendly wedding services, including an online registry, specifically designed for gay, lesbian, bi, trans & gay-friendly couples.
---
TungstenWorld.com - interlocking male symbol wedding rings
TungstenWorld.com - interlocking female symbol wedding rings
---
UK Gay Wedding Ceremonies - provides details of over 20 interfaith ministers in England, Wales and Scotland offering gay weddings, marriages and other ceremonies. We also offer advice on your legal rights regarding a gay marriage.
---
Wedding In Ravello, Italy - The unique Italian Wedding Planner providing dedicated, friendly planning for same-sex marriages.
Stunning locations in the Amalfi Coast and Umbria.
---